Product Description
Camellia 2 Luxury Spa Pedicure Chair
The Camellia pedicure spa is luxurious, elegance, sleek, and highly unique in design. These pedicure chairs unit incorporate a massage system similar to techniques used by chiropractic professionals for back and spinal care. Camellia pedicure chair uses the latest technology of cleanjet max, a pipeless magnet which does not contain any bacteria that is causing fungus to the nails. Magnet pipeless pedicure chair is safe and hygienic to use at your salon.
Features:
Shiatsu Massage
Fiberglass with Acrylic coated for the base
Manicure Tray
Cleanjet Max (magnet jet)
Chemical and acetone resistance
Quiet Whirlpool Motor
Capable of Floor Drain or Wall Drain
Automatic Power slide and recline
Free Pedicure Stool
Adjustable Up/Down armrests
Pull out Spray
Durable leatherette with protective finish
Acrylic reinforced with Fiberglass and Gel Resin.
Specifications:
Dimensions: 55″L X 32″W X 58″H
Weight: 300 lbs
Tub Capacity: 4 US gal (16L)
Water Source: 1/2″ pipe thread fitting hot & cold. Must meet local plumbing codes. Backflow Preventer factory installed. Normal water pressure of 30 to 120 PSI required.
Drain Source: 1-1/4″ drain. 1/2″ if discharge installed. Must meet local plumbing codes using 40 drain pipe and appropriate traps. Factory installed discharge pump (optional).
Electrical: Whirlpool CleanJet 1/5HP 120V 1.5 AMP 60hz.
Discharge pump (optional) 110V 5.5 AMP 60Hz.
Certifications: CSA approved & UL listed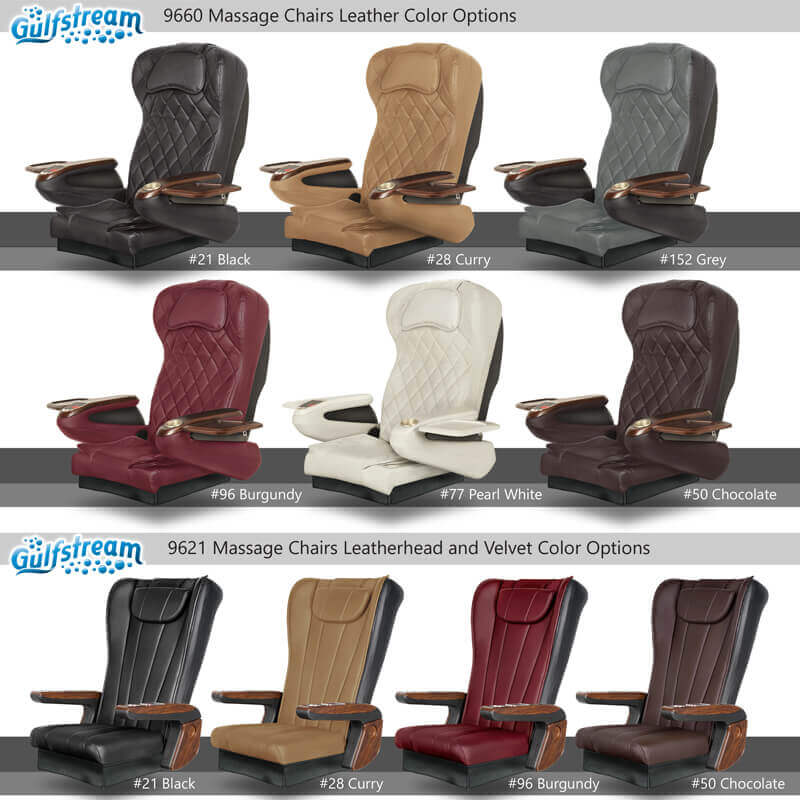 Base Option


Bowl Option