Product Description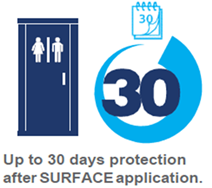 Zoono®  – Safe, Effective, Long-Lasting Germ Defense.  A revolutionary line of antimicrobial products that offer 30 days protection on surfaces.
Zoono® is highly effective against 100+ pathogens, including Gram negative and Gram positive Bacteria, Viruses, Fungi, and Algae.
Zoono's non-toxic technology works via a 'mechanical' process.  Zoono is applied as a mist, foam or wipe, then left to dry.  Once dry, Zoono resembles a bed of microscopic pins that attract, pierce and kill pathogens – the same principle as a pin popping a balloon.
 Zoono lasts longer than chemical / alcohol based products
Chemical and alcohol based products are only effective while they are wet.  As such, they have little to no residual protection and hands / surfaces can quickly become re-contaminated.  In contrast, the germ defending properties of a single application of Zoono lasts for up to 24hrs on skin, and for up to 30 days on surfaces.
Zoono can't result in "Super-bugs"
Unlike other antimicrobial products, Zoono does not kill bacteria by poisoning.  As such, there is no possibility of bacteria building up any immunity (no super-bugs).
Zoono is non-drying / gentle on hands
Zoono does not contain alcohol and therefore will not dry out your skin.  Zoono also allows the skin to function and "breath" normally.
Zoono won't wash off with normal cleaning / hand washing
Zoono does not rub off and will remain active on skin / surfaces despite normal washing and drying.
Zoono is colourless and odourless
This means that there are no unpleasant odours / no staining.
Zoono is food safe and easy to handle
Zoono has numerous Approvals and Registrations from over 40 territories / countries and is safe for humans and animals alike.  It has a similar "toxicity" rating to Vitamin C, and unlike alcohol based products, Zoono is non-flammable and safe to store.
Zoono is environmentally friendly
Zoono is made from raw organic compounds. There is no harm to drains / waterways if Zoono enters the system.
Zoono has a proven track record against gram-positive and gram-negative bacteria, mould, fungi, and viruses
Zoono has been tested at universities and independent laboratories in the USA, Australia, and New Zealand. 
Available in  250 ml, 5 Liter