RefectoCil Lashes and Brows Tint Course
NEXT DATES: – Call for dates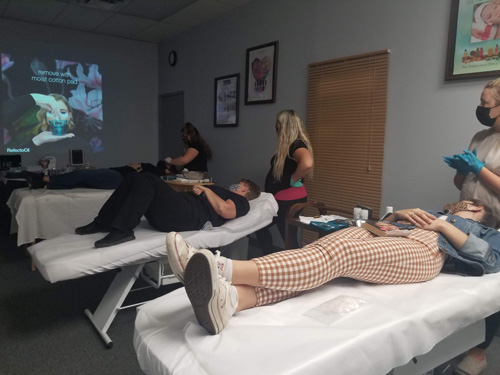 RefectoCil Tinting Course.  Join us for one of the hottest and biggest trends in the Beauty Industry!  Bring out your gorgeous Eyelashes and Eyebrows with RefectocCil Tinting.  Eyelash and Eyebrow Tinting give the eyes definition and lets you go without mascara or having the need to colour eyebrows with pencils.  This will save your customers time on their daily routines.  Tinted eyelashes and eyebrows will thicken the look of the existing eyelashes and eyebrows, bring out and define facial features and will make lighter eyes stand out.  Tinting can be applied on all colours of eyelashes and eyebrows and is a quick and easy service that you can add to your list of services in your spa and salon.
This course will cover:
Knowledge to the importance of styling lashes & brows
In-depth knowledge of proper protocols on each service
In-depth product knowledge
The emotional aspect of Lash & Brow Styling
Identifying eye diseases and infections
Understanding the importance of client consultation & patch test
The importance of filling in a consent form
The profitability from offering a lash & brow tinting service
Proper aftercare instructions
Infection Control Product knowledge with PREempt
Course Duration: 3 Hours (Depending on Q&A)
What's Needed: Included in the course cost is the RefectoCil Blue Starter Kit, Styling Gel and 1 Canister of Preempt RTU Wipes.  This is needed for our certified RefectoCil Lash and Brows Tinting Course.  The kits will be provided the day of the course and has all your materials needed to be used during the training.  Please inquire for further details and information.
Curriculum:
Theory: Science RefectoCil (Procedure / Marketing) & Infection Control
Practical:  Students will complete full practical on a model that must be provided by the student during a designated time prior to the course date.  Models are mandatory in order to attend training for this course.  (Masks and Shields are required to be worn by all attendees and models.)
PRE-REGISTRATION: Click here to Inquire for Further Information.  We will be more than happy to contact you back, clarify any doubts and confirm you registration. Must be registered at least 5 days prior to the class.