Product Description
Rich in Phytoplankton, Vitamins, Minerals and Nutrients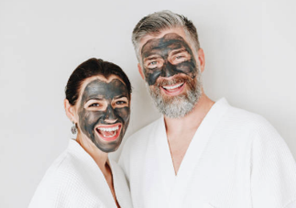 Cleanse   Nourish   Detoxify
Oceanic Glacial Clay mask is clay found along the coastal waters of the Pacific Northwest British Columbia and is submerged and replenished daily with the ebb and flow of the tides.  The clay rests beneath a blanket of rich deposits and is harvested with sustainable environmental guidelines.
Apply once or twice a week, after cleansing your face, pat dry and apply the Aegis Glacial Clay Mask completely covering your face, avoiding the eyes.  Tingling sensation is typical. Leave on for 8-10 minutes, until dry.  Wash off with lukewarm water, and gently pat dry.  With over 60 micronutrients, rich in phytoplankton, abundance of vitamins, minerals, amino acids, essential fatty acids, enzymes and antioxidants, the clay naturally promotes skin health and nutritional balance.
Beneficial Properties
•     Exfoliates and deeply cleanses to remove bacteria and impurities
•     Natural rehydration
•     Replenishes beneficial minerals to renew the skin
•     Improves tone and texture
•     Stimulates blood circulation
•     Anti-bacterial and anti-inflammatory
•     Helps heal skin irritation
Uniquely Canadian
Enriched with more than 60 minerals and micronutrients.
Active Ingredients: Water, Colloidal Clay, Capric Triglyceride, Glycerin, Lavender Flower Extract, Green Tea Leaf Extract, Chamomile Extract, Acrylate Copolymer, Caprylyl Glycol, Hexylene Glycol
For all skin types.
SIZES: 100mL / 3.4oz , 350mL / 12 oz
Our products are:
‣     Paraben-Free
‣     Sulfate-Free
‣     Sustainable
‣     Hypo-Allergenic
‣     Non-irritant
‣     Animal-Cruelty Free