Product Description
Introducing the New La Trento
Introducing a new acrylic cost-effective and environmentally friendly spa – for use with disposable liners only – completes The Gulfstream high quality of excellence.
Gulfstream's economical pedicure unit now available with liners, complete with our high-quality finishes.
Ideal for all spas and salons…
La Trento Pedicure Spa comes with a state-of-the-art shiatsu roller back massage system. The roller back system works on applying pressure to all the right spots as well as providing several different functions: compression, kneading, percussion and rolling. All of these functions can be controlled by a hand-held remote which allows your client to customize their experience.-
The IDJet Whirlpool System is one of the most powerful on the market. This system is easy to remove and clean with its magnetic locking system.
La Trento Pedicure Spa available in an assortment of durable acrylic base, high-quality massage chair and IDJet Technology.
Gulfstream's La Trento Pedicure Spa holds the following certifications: UL certification, Boston MA Approval, Los Angeles CA Approval, IAPMO certification, which is certified to CSA standards.
• Manicure Massage Chair; Full Shiatsu Massage.
• Acetone Resistant Arm Rests and Manicure Trays, Integrated on Both Sides.
• USB and Electrical Outlet.
• Armrests can be raised up/down.
• Manicure trays can be removed and installed on 9621 chairs.
• Manicure trays can be folded up/down on 9660 chairs.
• Integrated Footrest.
• The Variety of Color and Finish Options.
***Additional Cost May Apply for Upgrades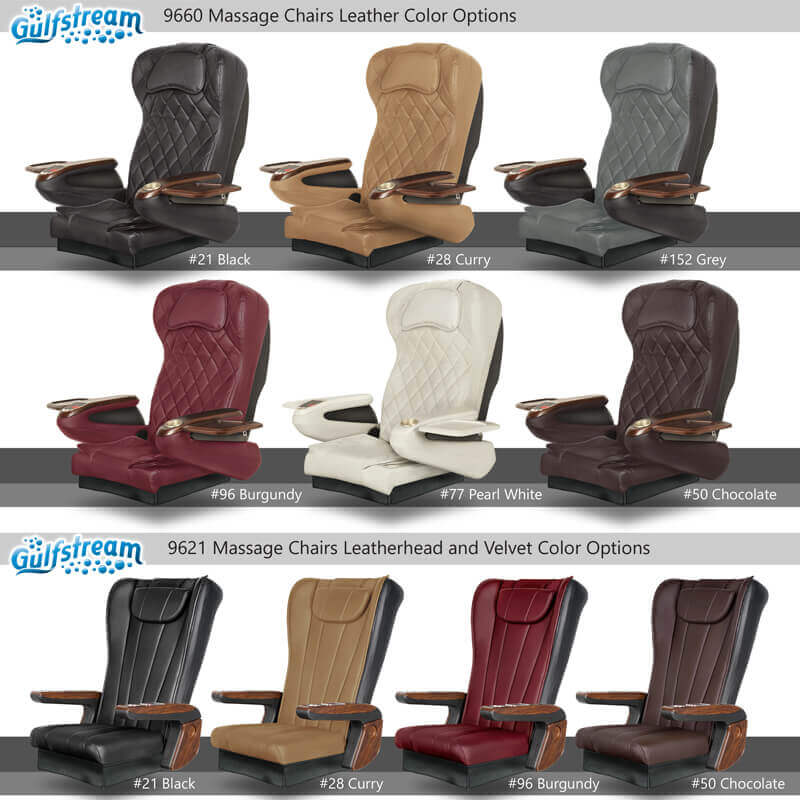 Base Option: