Product Description
Beneficial Properties:
Enriched with vitamin E and betacarotene, which converts to vitamin A (retinol) that normalizes oil production.  Active extracts are derived from the seeds of the Shea-Karite tree.  The fatty acids offer unique natural restorative properties, which is effective for healing skin conditions and for protection.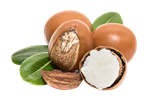 Shea Karite : Provides unique restorative and regenerative properties.
Vitamin A & E: Vitamin A (retinol) normalizes oil production.  Vitamin E a powerful antioxidant that may be effective at reducing UV damage in skin and may help nourish and protect your skin from damage caused by free radicals.
ACTIVE INGREDIENTS:   Organic Shea Butter, Glyceryl Stearate, Vitamin E & D, Betacarotene
SIZE: 75 mL / 2.5oz