Product Description
Marine Extracts Remove Impurities and Nourish the Skin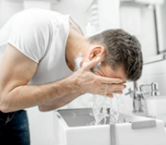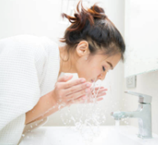 Ideal for Fighting against MASKNE Skin Irritation
MASKNE Face Wash, combined with MASKNE Skin Restorer, used as a daily regimen at the start of the day of wearing a mask and at the end of the day, after taking off the mask, effectively fights conditions caused by wearing a mask for a long periods of time.
Seaweed
Brown seaweed re-mineralizes the skin
Beneficial Properties:Contains allantoin, a softening agent that is left to protect the skin, while the trace elements of seaweed and sea water revitalize and re-mineralize.  Gently removes impurities and purifies the skin, leaving a sense of freshness and well-being.
Active Ingredients: Maris Aqua (sea water), Cocamidopropyl Betaine, Benzyl Salicyate, Algae Extract (brown seaweed), Hexyl Cinnamal, Linalool, Allantoin
SIZE:  200ml / 6.7oz
Our products are •Paraben-Free •Animal-Cruelty Free •Vegetable Preservatives •Baby-Safe